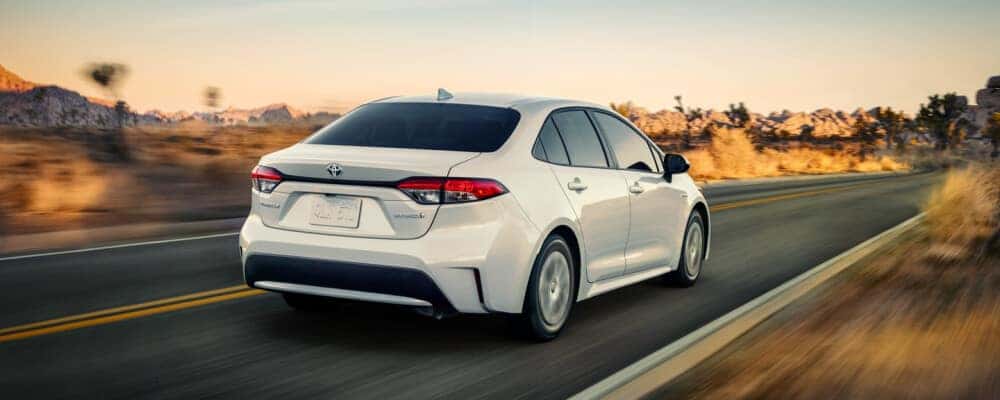 ---
The Toyota Motor Corporation has a long history of producing reliable and affordable hybrid sedans and SUVs for Palatka drivers to use on their daily commutes and weekend adventures. Starting with the Toyota Prius in 1997, Toyota has redefined and pushed the capabilities of hybrid vehicles to new heights with each new model year. Learn more about the Toyota hybrid vehicles for sale and the benefits of buying a hybrid model with Beaver Toyota St. Augustine below, then contact our team to explore our hybrid line-up in person!
Benefits of Buying a Toyota Hybrid Vehicle
Every year more Palm Coast drivers make the switch to a hybrid sedan or SUV. The increased fuel economy ratings aren't the only reason so many drivers enjoy hybrid vehicles, however. Toyota hybrid vehicles for sale offer a variety of features, luxurious interiors, and powerful performance capabilities on your daily drive. Learn more about the benefits of buying a Toyota hybrid vehicle for sale below:
Reduced fuel cost: Hybrid vehicles have fuel-efficient engines, allowing drivers to save more annually on fuel.
Fewer emissions: With less fuel consumption comes fewer emissions, making hybrid vehicles not only budget-friendly, but eco-friendly as well.
Instant torque: Hybrid electric motors have instant torque, meaning towing and accelerating will be much easier than on a conventional vehicle.
No engine idling: When you come to a stop or slow your vehicle to a lower speed, the internal battery will take over and shut off the combustion engine. This eliminates engine idling and helps you save fuel on your commute.
Federal and state tax incentives: Federal tax incentives help lower the overall cost of hybrid vehicles, making them more affordable for all drivers. Many states also offer hybrid tax incentives.
Help develop frugal driving habits: Hybrid vehicles come with a variety of driving systems that will help you develop frugal driving habits. These habits will help you save more fuel and help your vehicle last for many years to come.
Performance-focused vehicles: A common misconception is that hybrids are slow and cumbersome vehicles to drive. However, the opposite is true. The latest generation of hybrid vehicles are easy to drive, have luxurious cabins, and can even come with performance-focused engines for drivers who want extra horsepower behind the wheel.
High resale value: Hybrid vehicles have a higher standard of equipment than their gas-powered counterparts. This means they will have a higher resale value if you decide to sell your hybrid later on.
Priority hybrid parking/lanes: Hybrid vehicles have priority parking spaces and driving lanes for drivers to use in many states across the country.
Toyota Hybrid Models
With a variety of Toyota hybrid sedans and SUVs for sale at Beaver Toyota St. Augustine, drivers can easily find the vehicle that will fit their budget, their needs, and vehicle preferences! Toyota has ten hybrid vehicles and one fuel-cell vehicle for sale on the U.S. market. See the different Toyota vehicles for sale below.
2021 Toyota Camry Hybrid
The 2021 Toyota Camry Hybrid achieves high fuel economy ratings and powerful performance on Jacksonville roads. With all the reliability and features offered in the popular Toyota Camry, the Toyota Camry hybrid starts at just $27,270* and has a 2.5L Dynamic Force engine. Producing up to 176 hp and offers 44 mpg city and 47 mpg highway EPA-estimated fuel economy, the Toyota Camry Hybrid allows drivers to save on fuel while getting the performance ratings they want.
2021 Toyota Corolla Hybrid
The 2021 Toyota Corolla Hybrid continues the success of its debut 2020 model with more interior features and connected services. This compact sedan makes navigating small St. Augustine streets and finding parking a breeze while providing up to 53 mpg city/52 mpg highway EPA-estimated fuel economy on a 1.8L 4-cylinder engine. Get the Toyota Corolla Hybrid for just $23,600*!
2021 Toyota Avalon Hybrid
If you're looking for a sophisticated cabin filled with luxury features on your daily commute, then the Toyota Avalon Hybrid is the vehicle for you. This Toyota Hybrid car is built with luxury interior material and next-generation features that will keep you comfortable and connected as you drive. Starting at $37,100 MSRP*, drivers will get a 2.5L Dynamic Force engine that offers 176 hp and 43 mpg city/44 mpg highway EPA-estimated fuel economy.
2021 Toyota RAV4 Hybrid
The Toyota RAV4 Hybrid brings AWD capability to the Toyota hybrid lineup, allowing drivers to tackle inclement weather and difficult terrain while saving on fuel. Starting at just $28,650 MSRP*, drivers will have a 2.5L engine with 41 mpg city/38 mpg highway EPA-estimated fuel economy and 219 hp.
2021 Toyota RAV4 Prime
Take everything you love about the RAV4 Hybrid and add luxury materials along with plug-in charging. The 2021 RAV4 Prime is a plug-in hybrid with a 2.5L Dynamic Force engine that offers 302 combined horsepower and an impressive 40 mpg city/36 mpg highway EPA-estimated fuel economy. Premier interior features, materials, and accents will make you feel like you're driving a luxury SUV for just $38,100 MSRP*.
2021 Toyota Highlander Hybrid
If you love the features and capability of the RAV4 Hybrid, but you need the extra room offered in a full-size SUV, then you should consider the 2021 Toyota Highlander Hybrid. This hybrid SUV holds up to 8 people and has 84.3 cubic feet of cargo space. Paired with AWD capability and a 2.5L engine that produces 35 mpg city/35 mpg highway EPA-estimated fuel economy and 243 combined horsepower, you'll have the power and capability to tackle anything the road throws at you. Get all this and more for only $38,510 MSRP*.
2021 Toyota Prius
The acclaimed Toyota Prius remains a key vehicle in the Toyota Hybrid lineup. With a refined interior and the fuel economy ratings you know and love, the Toyota Prius offers 2021 hybrid technology for just $24,525 MSRP*. With six configurations to choose from and a new AWD drivetrain, Jacksonville drivers can get 54 mpg city/50 mpg highway EPA-estimated fuel economy from its small but mighty 1.8L engine.
2021 Toyota Prius Prime
Comparing the Toyota Prius vs. Prius prime will reveal that the Prius Prime offers plug-in hybrid technology and a slightly higher starting MSRP of $28,220*. A 1.8L ECVT hybrid engine powers the Prius Prime and produces 55 mpg city/53 mpg highway EPA-estimated fuel economy. If you want the luxury that's offered in the Toyota Avalon Hybrid at a driver-friendly price, then you'll love the Toyota Prius Prime.
2021 Toyota Venza Hybrid
New to the Toyota Hybrid lineup, the Venza Hybrid is the next step in hybrid SUV technology. With a driver-focused console and intelligent interior features, the Toyota Venza Hybrid has a subtle futuristic design that's appealing to all types of drivers. The Venza produces 219 hp with an EPA-estimated 40 MPG fuel economy. See the new generation of Hybrid vehicles in the Toyota Venza Hybrid, starting at just $32,470 MSRP*.
2021 Toyota Sienna Hybrid
Redesigned for its 2021 model year, the Toyota Sienna minivan returns as a Hybrid model with an all-new interior and exterior design. The Toyota Sienna Hybrid offers a touch of sophistication to your St. Augustine drives with intelligent interior technology and a spacious interior with 87.1 cubic feet of maximum cargo space and seating for eight people. Powered by a 3.5L V6 engine that gets 243 hp and an EPA-estimated 33 mpg combined fuel economy, the Toyota Sienna Hybrid has the capability to get you where you need to go, no matter the distance or the weather. Enjoy the 2021 Toyota Sienna starting at $34,460*.
2021 Toyota Mirai
The 2021 Toyota Mirai is aiming to set a new standard in alternative-power vehicles. Powered by a hydrogen fuel cell, the Toyota Mirai sedan looks to make history as one of the first hydrogen-powered vehicles in the U.S. market. Starting at $49,500 MSRP*, the Toyota Mirai only emits water and can be charged in under five minutes. The Toyota Mirai fuel cells use hydrogen and oxygen to create electricity for a 312-mile range with a 67 city/highway MPGe fuel economy. The interior of the Toyota Mirai is as refined as the engine is progressive, with intelligent convenience features, safety features, and performance that will set the standard for hydrogen vehicles for years to come.
Test Drive a Toyota Hybrid Vehicle at Beaver Toyota St. Augustine
With a variety of hybrid vehicles to choose from you're sure to find your perfect match at our St. Augustine showroom! Come by today to take a test drive in your favorite Toyota Hybrid model, then browse our Beaver Toyota specials to see how much you can save on your next Toyota Hybrid purchase. When you're ready, you can sit down with our finance team to discuss your financing and leasing options. Apply for financing today! We look forward to putting you behind the wheel of a new Toyota hybrid vehicle for sale!