St. Augustine Humane Society WOW Partner of the Month March 2019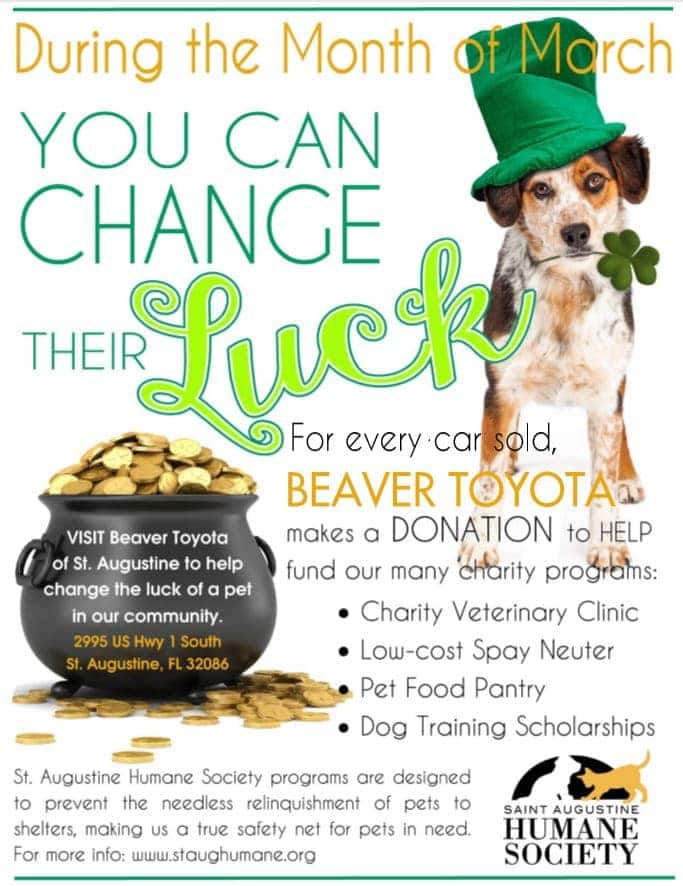 Help Beaver Toyota Support St. Augustine Humane Society & Our Community
Each month, Beaver Toyota partners with a local organization that is working to do good in our community and together we make dreams come true. Beaver Toyota donated $1,000 in March to the St. Augustine Humane Society and hosted a successful pet adoption!
About St. Augustine Humane Society
St. Augustine Humane Society (SAHS) was established in 1946 and has remained at the same location. Over the years, it has transitioned from serving as the County animal shelter to its current operations as a resource center.  Today it is focused on preventing the need for pets to enter shelters and preventing overpopulation.  Programs are designed to ensure that all pets have access to the care they need, making the organization a true SAFETY NET for pet owners.
Many problems that prompt people to consider surrendering pets are solvable.  While most owners are able to meet the responsibilities of pet ownership, many struggle financially which leads them to believe the solutions are unattainable. Sadly, many of these pets are needlessly relinquished to shelters or "put to sleep" for what is often a preventable condition.  The goal is to offer a variety of low-cost services, thereby avoiding "economic euthanasia."
The SAHS Resource Center is home to a low-cost veterinary clinic, spay neuter surgery center, pet food pantry, dog training, and Society Pet Spa.