How Does Beaver Toyota St. Augustine Support the Local Deaf & Blind Community?
At Beaver Toyota St. Augustine, we're committed to serving all customers in the area, and that includes the local deaf and blind community. That's why our community service efforts extend to the Florida School for the Deaf and Blind, and our website is accessible thanks to a new tool called AudioEye. Learn about both initiatives today!
---
What is AudioEye?
Recently added to the Beaver Toyota St. Augustine website, AudioEye provides users with fully accessible websites. It's designed to make a website ADA accessible which allows us to better serve our community. Features include:
Stronger interfacing with accessibility software for vision, hearing, and motor disabilities.
Compatible with assistive technology for color blindness, people learning to read, and cognitive disabilities.
Optimizes pages to allow users with disabilities to more easily interact with the website.
It's just another way we show that we care about the community in St. Augustine.
---
Learn About the Florida School for the Deaf and Blind
Located in St. Augustine, the Florida School for the Deaf and Blind has been serving young Floridians since 1885. Their motto is "Do More. Be More. Achieve More," and they serve Pre-K through 12th-grade students. Beaver Toyota St. Augustine recently hosted a group of students from the school and gave them a guided tour of our showroom and service center.
In addition, we support students at the Florida School for the Deaf and Blind by helping them attend a summer camp in North Carolina. This year, two students received scholarships to attend the camp which promises to be a life-affirming experience and a way to connect with other students from around the country.
---
Two Students Awarded Scholarships
It's our honor to announce the two incredible students who we awarded our scholarships. These two blind high school students from FSDB had the opportunity to attend our Young Life camp at Windy Gap, NC. Both had an incredible time during some of the best weeks of their lives. They experienced a lot of fun activities for the first time, including horseback riding, go-carts, zip lining, square dancing, and a five-mile mountain hike challenge
Thanks to your donations, these two high school blind students were awarded the scholarship.
Veronica Hyatt
Year: Junior
Sports: Cheerleading squad, plays Goalball for FSDB
Activities: Volunteers as a junior Young Life Leader to middle school blind students
Facts: She's one of the few blind girls to play on the FSDB women's soccer team
Veronica has had a difficult life, so watching her in a stressfree environment having fun, making friends, and laughing was an amazing thing to witness.
Aaliyah McKneely
Nickname: Peach
Year: Sophomore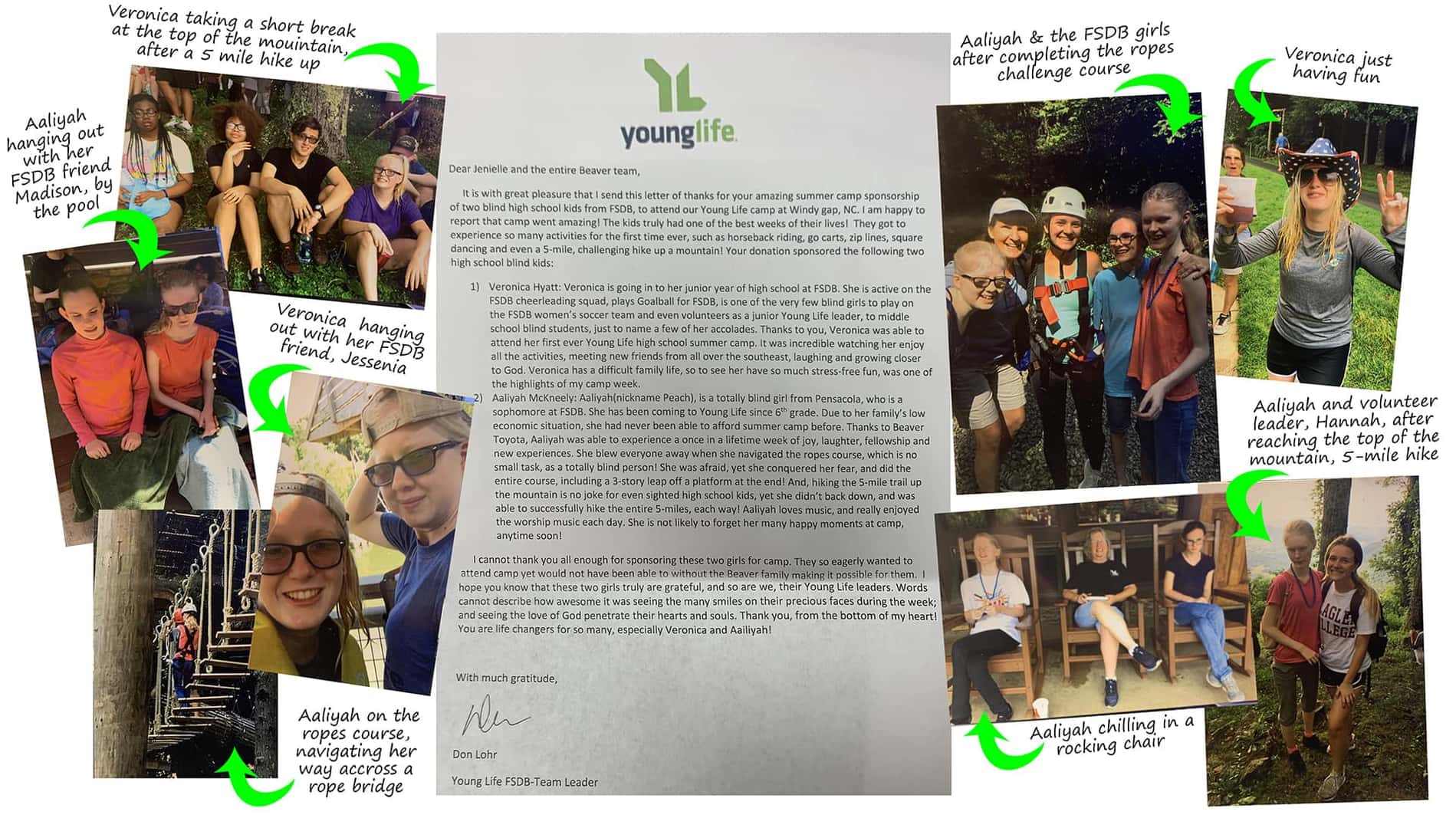 Aaliyah is from Pensacola and has been coming to Young Life since she was in the 6th grade. Unfortunately, she has never been able to afford summer camp. She blew everyone away at the ropes course, she was scared, but completely conquered her fears as she finished the course which included a three-story leap off of a platform at the end! She didn't back down and finished the entire five-mile race. She's truly an inspiration to many people.
Student of the Week – Florida School for the Deaf and Blind
At Beaver Toyota St. Augustine, we want to continue to show support for exemplary members of our community. That's why we recognize a "Student of the Week" from local schools in the area. This week we'd like to recognize Zoe Wilson from the Florida School for the Deaf and Blind.
Student Name
School

Florida School for the Deaf and the Blind

Grade
Why are you nominating this student?

Zoe Wilson is a student at FSDB in the blind department, and she is the 2019 recipient of the St. Johns County David Macaulay Mathis Pursuing Victory with Honor Award. She is thoughtful, caring, tenacious and determined. Zoe is a real leader within her class and school overall. She is extremely well rounded and interested in everything. Zoe is the school valedictorian, caption of her Goalball team, and member of the FSDB dance troupe. She is also a cheerleader and she participates in band and school plays among many other interests and pursuits. Zoe supports her peers and she respects and appreciates others. Zoe plans to attend college this fall.

Which of the six pillars of character does the student displays the most?

Trustworthiness
Respect
Responsibility
Fairness
Caring

Please Explain

Zoe is a wonderful representation of all of the pillars.