Stuff the Truck School Supply Drive
Back to School is in full effect in St Johns and Flagler County!
As you may know, Beaver Toyota St Augustine loves to give back to our students of the local public school districts. Many times teachers spend up to $1,000 of their own money to provide school supplies to students who need them the most! With that in mind, we want to help out as much as we can. This August, we will be hosting "Stuff the Truck" with school supplies drive. We welcome all of our staff, partners, friends, family, and community members to participate. Collection dates are August 1st- 31st in our showroom during normal business hours. Supplies will be divided up going to INK! (Investing in Kids) Tools 4 Schools program and Flagler County Education Foundation's S.T.U.F.F. Bus programs.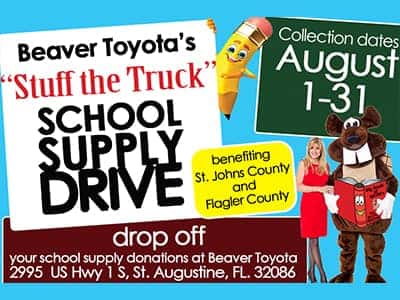 Supply List
•Lined Paper (wide & college)
•Copy/Printer/Graph Paper
•Colored Construction Paper
•Pens & Highlighters
•Colored & Permanent Markers
•Crayons & Colored Pencils
•#2 Pencils (wood & mechanical)
•Pencil Boxes & Zip-Cases
•Erasers (pencil-cap)
•Staplers & Staples
•Index Cards (various sizes)
•Glue (liquid & stick)
•Hole Punchers (single & 3-hole)
•Storage Bins
•Art Supplies
•Scissors
•Calculators (all types)
•Composition Notebooks
•Spiral Notebooks & 3-Ring Binders
•Folders (3-hole & non)
•File Folders
•Paper Clips & Rubberbands
•Sticky Notes
•Dry Erase Markers & Boards
•White-Board Cleaner
•Paper Towels Tissues
•Hand Sanitizer