S.A.F.E. Pet Rescue WOW Partner March 2020
S.A.F.E. (Saving Animals From Euthanasia) Pet Rescue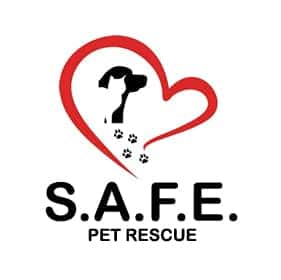 S.A.F.E. (Saving Animals From Euthanasia) Pet Rescue is a 501c3 not-for-profit that focuses their efforts on rescuing adoptable dogs, puppies, cats and kittens that are scheduled to be euthanized at kill shelters in Northeast Florida simply because their time has run out or they have a costly medical condition. They will never turn their back on an animal because of how it looks or its age. They have also driven to hurricane-stricken areas on multiple occasions to take animals from shelters in need of help, have taken many from hoarding cases as well find them left at their doorstep, tied up or left in boxes or cages.
S.A.F.E. provides these animals with shelter, food and medical care until their forever home is found. Most of the animals they take in need to be spayed/neutered, given appropriate shots, microchipped and given flea and tick medicines. Since starting up over 10 years ago, they have rescued over 15,000 animals!
They run 4 shelters and have approximately 145 dogs and 70 cats in their care. These shelters are open for adoptions 365 days a year from 10AM to 5PM. They also have a Thrift Store at their HQ location where donations of clothing, furniture and household items (electronics excluded) are sold and all proceeds go to S.A.F.E.
We will be hosting a pet adoption on Saturday, March 14th from 11am-3pm at Beaver Toyota, 2995 US Hwy 1 S, St. Augustine, Florida, 32086.
Shelter information:
6101 A1A South, St. Augustine
3 suites which house a total of 70 dogs. This location has small, medium and large breed dogs.
1250 Old A1A, St. Augustine (Headquarters Location)
1 building which houses a total of 25 mostly large breed dogs, 60 cats and is where pregnant dogs and cats are kept to give birth. This is also where the Thrift Store is located.
112 Norma Street, Hollister
1 building which houses a total of 30 mostly large breed dogs
819 S. Moody Road, Palatka
1 building which houses a total of 20 dogs and 10 cats
SAFE Pet Rescue Wish List
New or used towels
New or used sheets
Quality dry and canned dog and cat food (adult and puppy or kitten)
Leashes and collars
Pet carriers – black collapsible cages, airline or cardboard (for cats)
Scoopable cat litter
Heartworm and flea preventative
Bleach or disinfectant (Fabuloso)
Washing detergent for pet linens
Plastic garbage bags
Large tent (easy set up) for shade at adoption events
Cat litter trays
"Adopt me" dog bandanas
Nylabones
Paper towels