Car Rental Services St. Augustine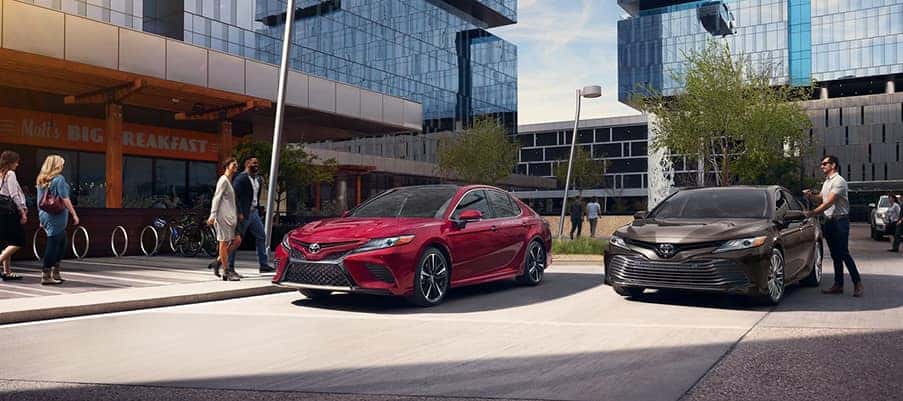 Try it before you buy it with Beaver Toyota Rent a Car!
At Beaver Toyota of St. Augustine, we don't just sell cars, we rent them too. Whether you need a service rental while your car is being repaired, an insurance replacement vehicle, or a retail rental for extended test-drive or special travel, you can easily request a rental online, by phone, or in our showroom. Choose from a 2019 Avalon, 2020 Corolla, 2019 Corolla Hatch  2019 Camry, 2019 Tacoma, 2019 RAV4, 2019 Highlander, and the 2019 Sienna.
Frequently Asked Questions
What is Toyota Rent a Car?
Toyota Rent a Car is a vehicle rental system available only through Toyota dealers. Toyota Rent a Car was designed to assist dealers in offering quality temporary transportation to their customers.
Why should I choose Toyota Rent a Car instead of another rental company?
Unlike other rental companies, Toyota Rent a Car is Toyota dealer based. This means that not only do you have an opportunity to rent the latest model Toyota, but you get the quality customer service of a conveniently located Toyota dealer.
Are Toyota Rent a Car rates competitive with other rental agencies?
Yes. Toyota dealers are committed to satisfying current and prospective Toyota owners. We are able to provide very competitive rates since the vehicle and the facility are part of an existing Toyota dealership. Check with your local Toyota Rent a Car dealer for exact rates.
Can I rent a vehicle at one location and return it to another location?
At this time, the vehicle must be returned to the Toyota Rent a Car dealership where it was rented. Check with your Toyota Rent a Car dealer about off-site pickup services.
Can I rent any Toyota vehicle?
Participating Toyota Rent a Car dealers have a wide variety of the latest models available for rent. Please check with your local Toyota Rent a Car dealer for available models in your area.
Can I rent from any Toyota dealership?
You can rent from any participating Toyota Rent a Car dealer. At this time, more than 85% of all Toyota dealers participate, and Toyota Rent a Car has a fleet size of more than 24,000 vehicles to accommodate your every need.
Can I buy the vehicle I am renting?
Absolutely. Most Toyota Rent a Car vehicles are available to purchase after their short four-month in service period. Please check with your dealer for details.
Can I take the vehicle I rented into Mexico or Canada?
Toyota Rent a Car vehicles are allowed in the continental United States, Alaska and Canada. Toyota Rent a Car vehicles are not covered in Mexico.
Are there age restrictions on the person renting the Toyota?
Yes. You must be at least 21 years old to rent a Toyota vehicle. Check with individual dealers for exact age requirements.
Are there any other restrictions?
You need a valid driver's license and a major credit card in your own name to rent a vehicle from the Toyota Rent a Car program. Proof of full coverage insurance may be required at the time of rental.
Notes about licenses:
A valid license from the Renter's state of residence or country of origin is required (i.e., must not be expired, must not have any restrictions).
An International Driving Permit or license is acceptable but is not required.
A military license is acceptable as long as it is accompanied by the Renter's state of residence license, as well as proof that the Renter is on active duty.
A Learner's Permit is not an acceptable license.
A temporary license, permit or application for a Driver's License may be acceptable. Always check with your local Department of Motor Vehicles to verify that such paperwork is valid and has not expired.
Some states will hold a Driver's License after a ticket has been issued by police. This ticket is not acceptable.