Port in the Storm WOW Partner June 2019
About Beaver Toyota's WOW Partner of the Month Program
Each month, Beaver Toyota partners with a local organization that is working to do good in our community. Beaver Toyota is donating a portion of the proceeds from each vehicle sold to support the organization's efforts toward achieving a particular goal. The Beaver team also hopes to shed light on all the amazing people doing well in our community and encourage solidarity among these organizations. This month, our WOW Partner is Port in the Storm Homeless Youth Center. Learn more about their Grand Opening Event on that occured on June 13. Then on Saturday, June 29th, we had a Bucky Beaver Beach Blast BBQ for our WOW Partner of the Month! We had hotdogs, hamburgers, and ton of smiling local faces come and join us for the festivities! Thank you to all that came in and dropped off donations, put money in the donation jar, or bought a car this month! Port in the Storm is extremely grateful for it all, and we are also thankful you could help contribute to the cause!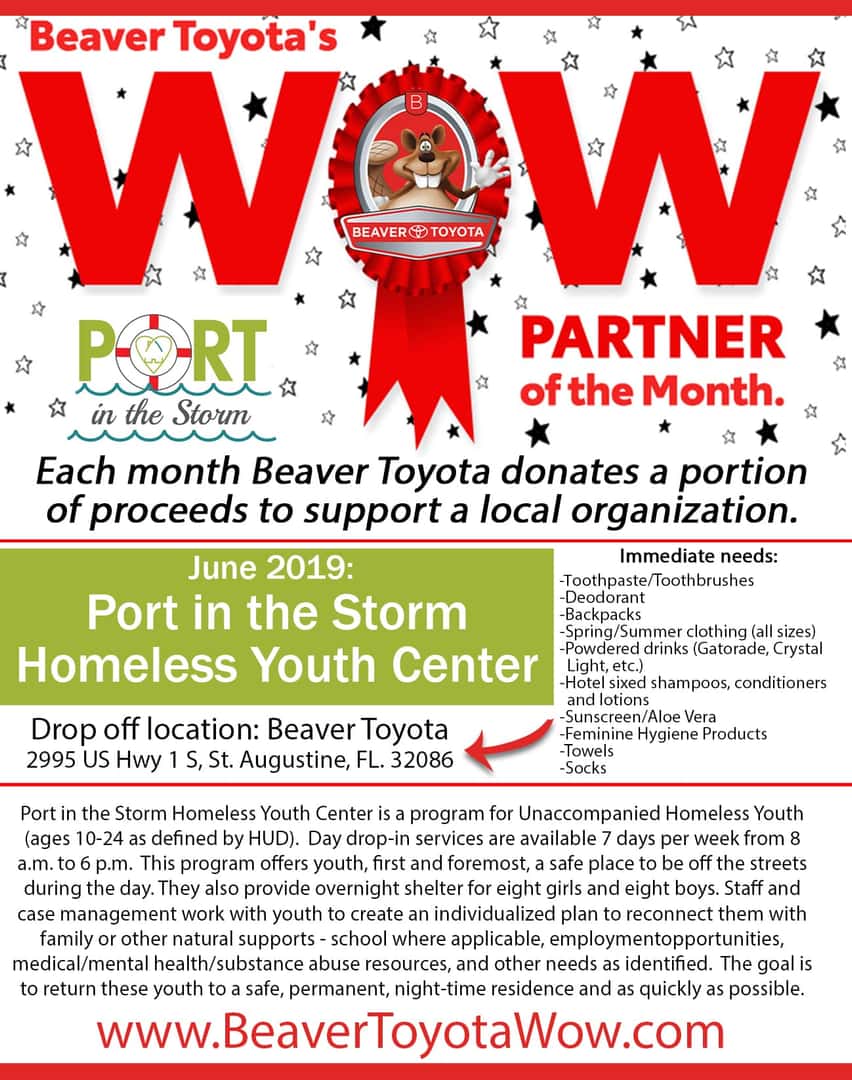 Port in the Storm
Port in the Storm is a "port in the storm of life" for youth who have fallen through the cracks. They say that the opposite of love in not hate, but indifference. No one cared if they came home and what was going on at home was often scarier than the streets.
Now they are on the streets and more alone than ever. They are no longer kids. They are hurt. They are tough. They are angry. They are lost. This is the last chance to help them before they spiral down into the pit of chronic homelessness, mental illness or suicide.
Port in the Storm is a safe place off the streets for homeless/unaccompanied youth in crisis. Caring adults provide stability, hope and a path to successful future through Positive Youth Development programming.
Located at our Arapaho Ave campus, day drop-in services are provided from 8 am to 6 pm daily including life skills, basic needs, job skills. housing assistance and more. We also provide overnight shelter for 16 homeless youth.
For more information contact Robert Harris, Marketing/Volunteer Coordinator, at [email protected] or 904.824.8987, ext. 2.
"I tried to remember who I wanted to be. Where I came from before my name shriveled under the labels of "at-risk, runaway, throwaway, trash".
– a homeless youth
Port in the Storm Homeless Youth Center
Port in the Storm Homeless Youth Center is a program for Unaccompanied Homeless Youth (ages 10-24 as defined by HUD). Day drop-in services are available 7 days per week from 8 a.m. to 6 p.m. This program offers youth, first and foremost, a safe place to be off the streets during the day. We also provide overnight shelter for eight girls and eight boys.
Staff and case management work with youth to create an individualized plan to reconnect them with family or other natural supports – school where applicable, employment opportunities, medical/mental health/substance abuse resources, and other needs as identified. The goal is to return these youth to a safe, permanent, night-time residence and as quickly as possible.
Immediate needs for Port in the Storm youth include:
• Toothpaste/Toothbrushes
• Deodorant
• Backpacks
• Spring Summer clothing (all sizes)
• Powdered drinks (Gatorade, Crystal Light, etc.)
• Hotel sized shampoos, conditioners, and lotions
• Sunscreen/Aloe Vera
• Feminine Hygiene Products
• Towels
• Socks
Once the facility is ready we will need sheets and blankets for our 16 beds, as well as lots and lots of towels and bath rags.