Food Drive WOW Partner of the Month July 2019
July Food Drive
The 3nd Annual Beaver Toyota "Stuff the Truck" Food Drive will be going on this July, all month long. We typically do a food drive each year around the holidays and feed about 400 families. This year, we decided to do the drive in July because we realize that people are hungry year round.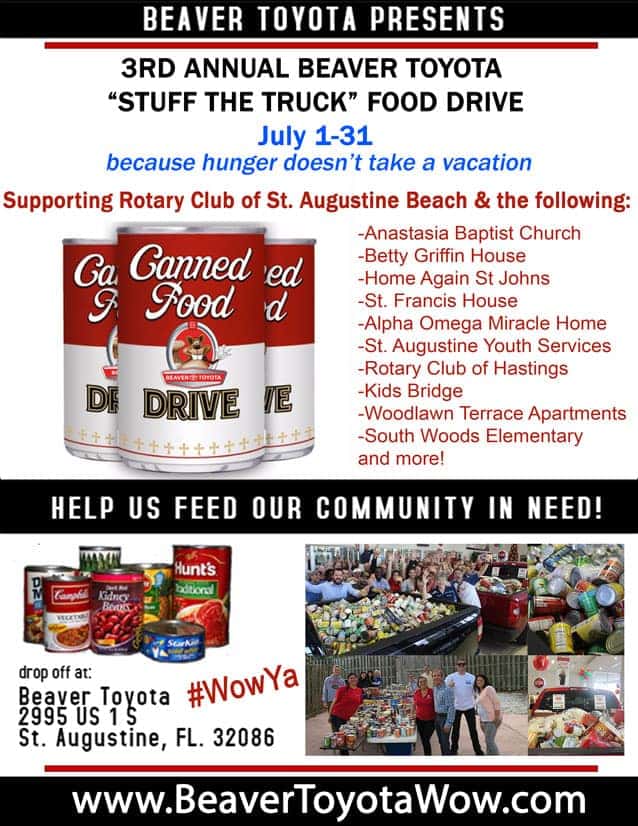 We are partnering with Rotary Club of St. Augustine Beach again for distribution of the food. The donations will be distributed to St. Francis House, Betty Griffin Center, Alpha Omega Home, Woodlawn Terrace community, Southwoods Elementary, Rotary club of Hastings, St. Augustine Youth Services, Kids Bridge, Anastasia Baptist Church Family Services, Home again St. Johns. If you would like to contribute, please bring your food to Beaver Toyota at 2995 Us Hwy 1 S, St. Augustine, FL. 32086, or we can accept donations to purchase the food ourselves.
In November of 2018, team members from Beaver Toyota in St. Augustine collected non-perishable foods to give back to the local residents of St. John's County to help feed our community in need. Our Beaver "WOW" teams collected 3,854 pounds of food, enough to fill the beds of three Toyota Tundras as well as $1500 in gift cards to go with each meal. In addition we also received monetary donations from Valley National Bank, 62 pounds of food from Greg's Collision Center and 76 pounds from Boy Scout Troop 274. This holiday season Beaver Toyota partnered with Investing in Kids (INK!), the direct support organization for St. John's County schools, and the Rotary club for the distribution of the food. The donations were distributed to Betty Griffin house, Home Again St Johns, Woodlawn Terrace Apartments, Sebastian Middle School, South Woods, Webster, and Hartley Elementary Schools, Anastasia Baptist Church, United Methodist Church, Bayview Healthcare Buckingham Smith Program and more!
Click here to check out the success of our 2017 food drive.  We collected 4,597 pounds of food, enough to fill the beds of two Toyota Tundras & $1600 and provided meals for 350 families.