This Weeks Winner is Steve Kabaki from RJ Murray Middle School
This Weeks Winner Steve Kabaki from RJ Murray Middle School
Each week we recognize and award a Student of the Week from St. Johns County School District with the Beaver Award for Excellence. A local station, the Beach 105.5 comes into the dealership and interviews the student to air on the radio. This week's winner is Steve Kabaki, a 6th grader at RJ Murray Middle School!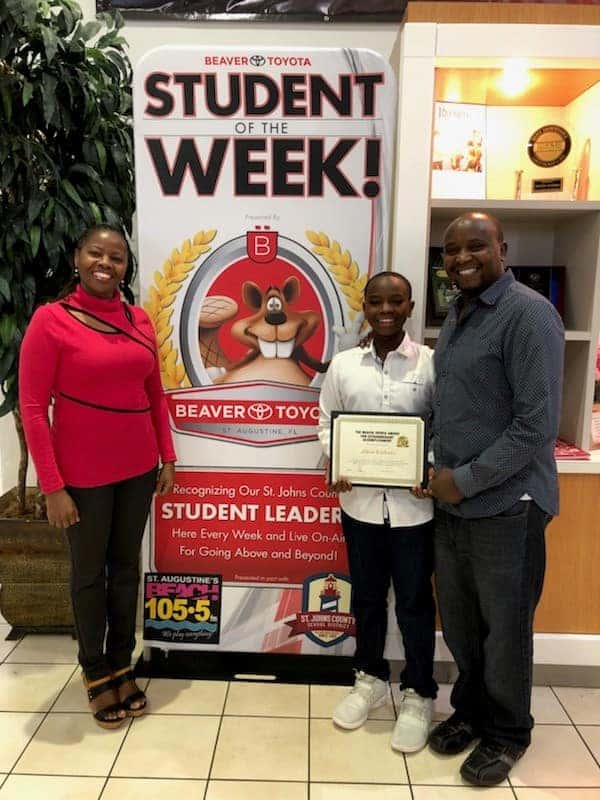 Show your support and congratulate Steve in the comments below!
Steve is very friendly, polite, kind and always models excellent behavior to his peers. He knows how to avoid conflicts and takes his studies and the opportunities that school presents him very seriously. He listens to instructions, follows directions, completes his assignments and has a good work ethic. I really enjoy having Steve in my classroom.
Hobbies:
Computing, Programing, Writing, Puzzles, Building Computers
" I write about my goals, stories, or events. I also enjoy puzzles because of the complexity, but yet they are simple. I love good puzzles that keep me occupied, but my favorite are the ones I can't solve. Lastly, I enjoy computers, I recently built a gaming computer from scratch and intend to build more in the future. "
Extracurricular Activities:
Soccer, Writing, Design
What is the most important thing he wants to be remembered by:
I want to be remembered by where my family is from.
"My biggest wish is not to be remembered by my fame or money but by my family. My parents grew up in poverty in Kenya on coffee farms not knowing when their next meal will come from."
Future goals/plans:
" My future goal is not fully decided; although it isn't decided, it is between real estate, stocks, and computing. I'm very interested in the above topics and plan to practice and perfect these professions. In fact, I already am; I've been studying real estate and stocks for a while now. I've built a computer from scratch, and learned how to program websites in HTML."
Person he looks up to the most and why:
Elon Musk because of where he came from (South Africa) and where he is now.
"The person I look up to the most (other than family) is Elon Musk. I look up to Elon because of where he came from. He is an entrepreneur looking for the same things our family is money, success and a happy business. Over time, he made the notorious PayPal, which became his debut. Elon's success lead to the Tesla electric car and Space-X. Elon, despite his struggles, is now a multi billionaire."