This Weeks Winner Montoya Gilyard from First Coast Technical College.
This Weeks Winner Montoya Gilyard from First Coast Technical College.
Each week we recognize and award a Student of the Week from St. Johns County School District with the Beaver Award for Excellence. A local station, the Beach 105.5 comes into the dealership and interviews the student to air on the radio. This week's winner is Montoya Gilyard, a student at First Coast Technical College.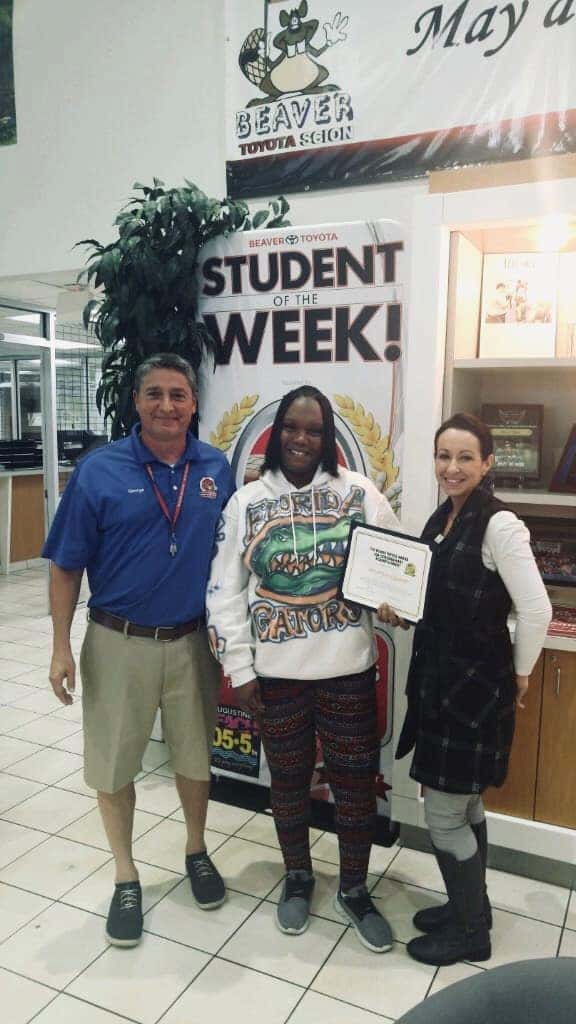 Show your support and congratulate Montoya in the comments below!
This student has gone beyond just the regular learning and shadowing during her internship for the Dental Assisting Program. Montoya has been recognized by the dentist himself and his wife for the outstanding examples of her "caring" and "responsibility" pillars with her patient care.
The Dental Office was down one assistant and she noticed what was needed for the office. There was a elderly man that was extremely upset due to not being able to have all his teeth pulled because he has A-Fib. There also was a 9 year special needs child that needed a polish. Her passion to help made her jump in without taking a lunch or thinking twice, this made an amazing experience for both patients. She took on a full mouth series with the elderly man and polish the special needs child and keep the child calm during the process. Montoya also helped assisted Dentist with several other things and was said to have done an excellent job for her first time.
Hobbies:
Cooking
Extracurricular Activities:
Spending family time with my children, listening to music, and watching football
What is the most important thing he wants to be remembered by:
Being a loving mother and wife
Future goals/plans:
Become a hygienist after being a dental assistant for a few years
Person she looks up to the most and why:
My mother, because growing up as a child she has ever let any situation keep her down, she always looks to the future for the best to come.