This Weeks Winner is Macy Dykes from St. Augustine High School
This Weeks Winner Macy Dykesfrom St. Augustine High School
Each week we recognize and award a Student of the Week from St. Johns County School District with the Beaver Award for Excellence. A local station, the Beach 105.5 comes into the dealership and interviews the student to air on the radio. This week's winner is Macy Dykes, an 11th grader at St. Augustine High School!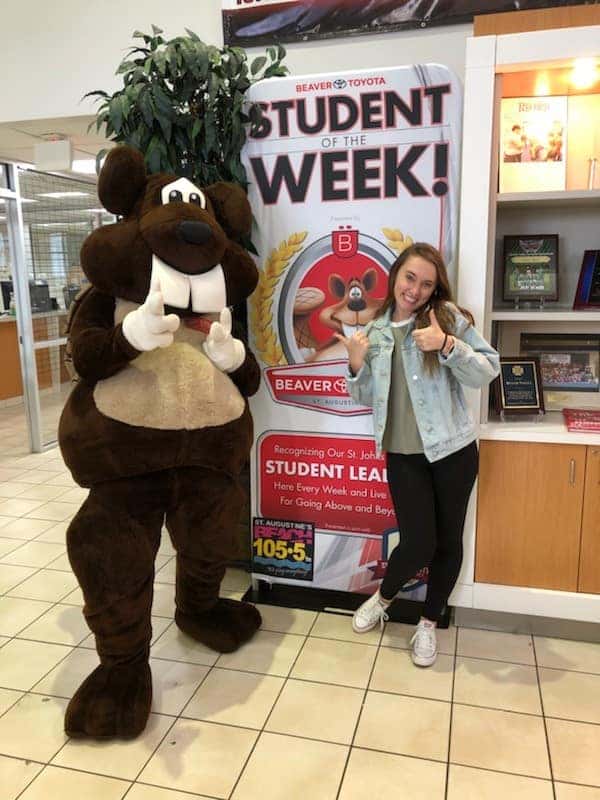 Show your support and congratulate Macy in the comments below!
This student falls into leadership rolls seamlessly. She is always willing to help me, her teacher, out as well as classmates. She is involved in MANY extracurricular activities such as dance and musical theatre and is always interested in bettering herself by training outside of school. She accepts every, single opportunity she is offered and is polite, pleasant, and grateful.
Even though Macy is only in 11th grade, she seems as if she could trek right into adulthood and hold her own. She is extremely put-together and I would trust her with any of my responsibilities should I need her to.
Hobbies:
Singing, Acting, Piano
Extracurricular Activities:
Musical Theatre, Dance, Chorus, President of Key Club, SPAC, Chorus Council Historian, Dance Council Choreography Captain, National Honors Society
What is the most important thing she wants to be remembered by:
Wants to be remembered as being encouraging.
Future goals/plans:
Wants to perform professionally.
Person she looks up to the most and why:
Mr. Jeff Dodd (Choral and Musical Theatre director). She strives to be as hard-working as him and wants to have the caring heart for others as he does.