This Weeks Winner Kelsey Sparks from Creekside High School
This Weeks Winner Kelsey Sparks from Creekside High School
Each week we recognize and award a Student of the Week from St. Johns County School District with the Beaver Award for Excellence. A local station, the Beach 105.5 comes into the dealership and interviews the student to air on the radio. This week's winner is Kelsey Sparks from Creekside High School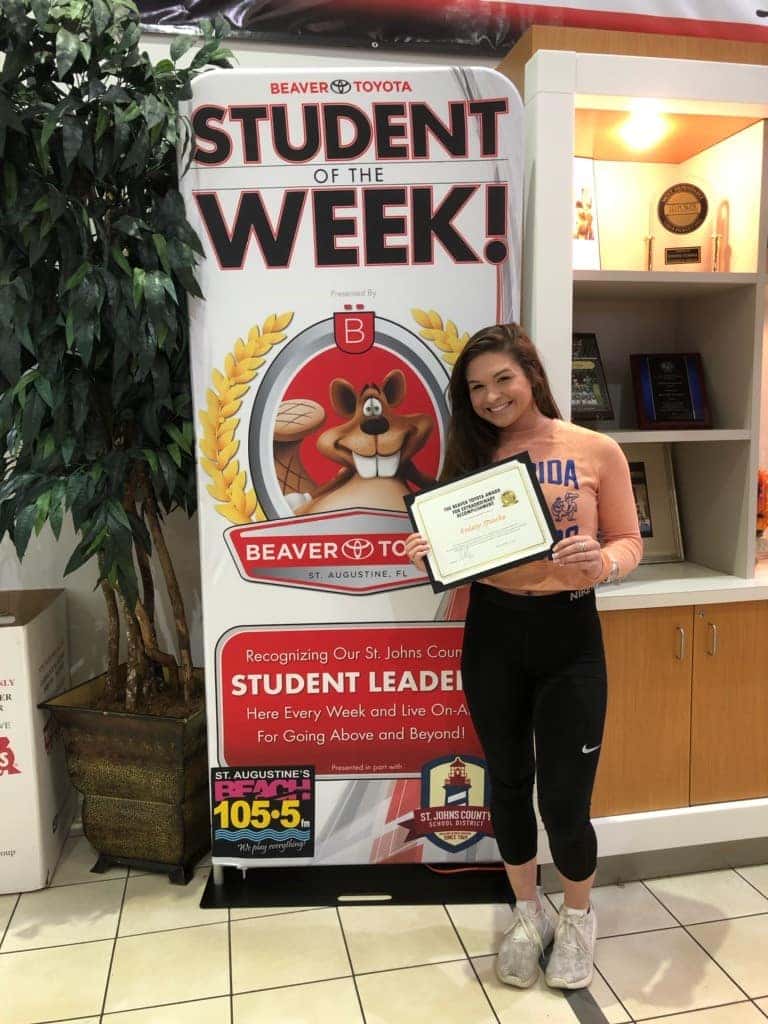 Show your support and congratulate Kelsey in the comments below!
Hobbies:
lifeguarding, photography, videography, volunteering for the March of Dimes organization.
Extracurricular Activities:
Creekside High Sideline and Competition Cheer Team, Sr Beta Club, National Honors Society, Junior Ladies Club
What is the most important thing he wants to be remembered by:
I would like to be remembered for making a positive difference in the world. So many people today focus on the negative traits of our generation and I would like to stand up and stand out for our generation to show that we are capable of making a difference and show that small acts of kindness can have a huge impact.
Future goals/plans:
I plan to attend the University of Florida and cheer for the Florida Gators! I plan to work towards a degree in nutrition and exercise science and hope to one day open my own gym and help others reach their personal health and fitness goals.
Person she looks up to the most and why:
The person I look up to the most is Audrey Hepburn. Not only was she known for her beauty and talents on the movie screen but she was also very involved in humanitarian efforts with UNICEF. Her quote "I believe in being strong when everything seems to be going wrong. I believe that happy girls are the prettiest girls. I believe that tomorrow is another day and I believe in miracles." is one of my favorite quotes. She had such a positive outlook on life and she had a heart to serve others. Those are attributes I seek in my own life.