This Weeks Winner is Abby Redway from Creekside High School
This Weeks Winner Abby Redway from Creekside High School
Each week we recognize and award a Student of the Week from St. Johns County School District with the Beaver Award for Excellence. A local station, the Beach 105.5 comes into the dealership and interviews the student to air on the radio. This week's winner is Abby Redway, an 12th grader at Creekside High School!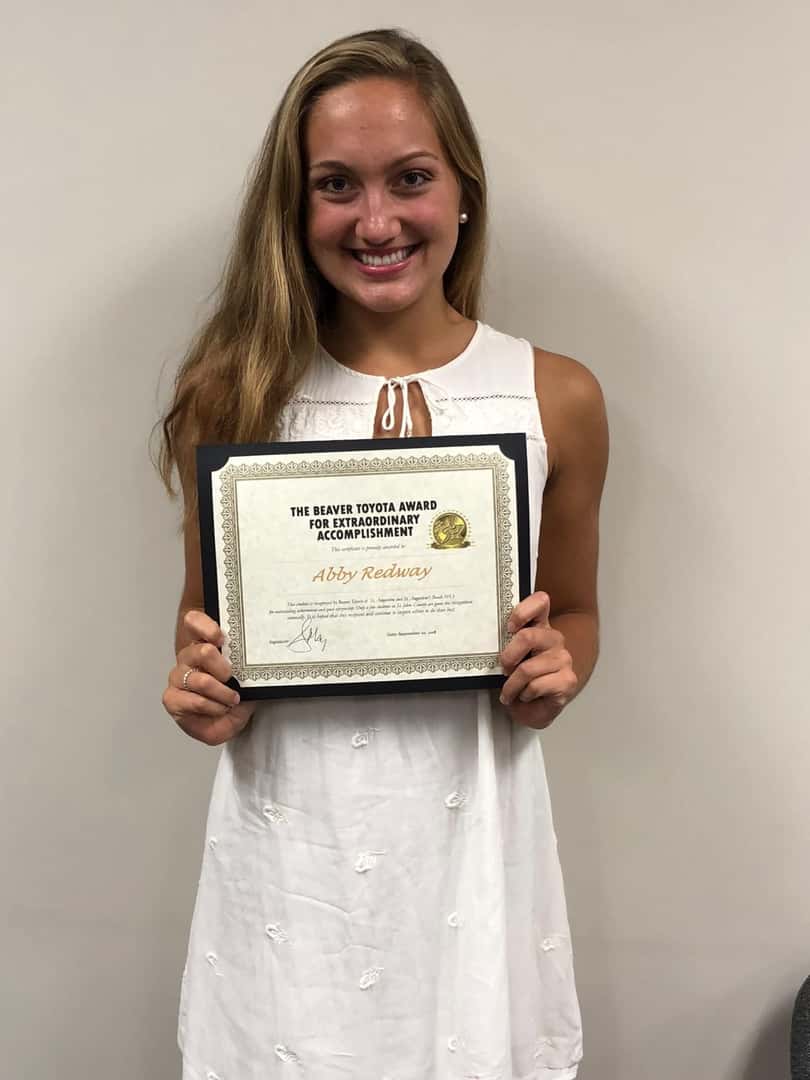 Show your support and congratulate Abby in the comments below!
Abby is exceptionally kind and respectful. She looks for ways to help and does whatever she is asked with a joyful heart. Abby is very respectful to everyone she interacts with form freshmen to teachers, administrators, and clerks.
Hobbies:
I love spending time with my friends and family. Going to the beach, working out, organizing, and camping are some of my favorite ways to spend my free time! Also, I was crowned Miss Creekside 2019 this past April. In addition to being Miss Creekside, I am Miss St. Johns County's Outstanding Teen and competed in the Miss Florida's Outstanding Teen scholarship pageant over the summer. It was so much fun to meet new friends while spreading awareness of my platform, youth volunteerism.
Extracurricular Activities:
I am a member of the Creekside varsity cheer team, both sideline and competition, and have been on it all four years of high school. Also, I'm in various clubs and honor societies at school. Outside of school, I am a black belt in Taekwon-do. My dad, sister, and I have been training together for the past 7 years.
What is the most important thing he wants to be remembered by:
I want to be remembered by leaving an impact on other students, the school, and the community through my service. Volunteering is something that I am very passionate about. Although most of it isn't "officially" documented (yet 🙂 ), I have over 1,000 hours of service. Most teens want to volunteer, but don't know where to start. Because of this, I created Abby's Ambassadors, an organization that gets other youth motivated to volunteer!
While I want to be remembered for leaving an impact, it is even more important to me that us youth leave a legacy in the community by coming together to serve others.
Future goals/plans:
After graduating Creekside High School, I hope to go to either the University of Florida, or the University of North Florida. While there, I want to obtain a Masters in Elementary Education or Nutrition and Dietetics with a minor in Spanish.
Person she looks up to the most and why:
The person I look up to the most is Tim Tebow. He is always a great role model and displays great character every day. He uses his fame and wealth to put others' needs before his, specifically families of children with special needs. Tim Tebow created the Tim Tebow Foundation to not only bring light into the lives of families who are experiencing a tough time, but also to serve the community and individuals. He is one of the reasons I founded my own organization, Abby's Ambassadors. The goal of Abby's Ambassadors is to find a need and fill it while inspiring other youth to get involved, too.